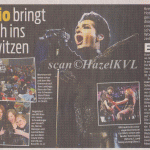 Scan by HazelKVL @ Twitter
Tokio bringt Zürich ins Schwitzen
Kreischalarm! Tokio Hotel begeisterten gestern im Hallenstadion Zürich. Die Hardcore-Fans standen schon seit Anfang Woche an für das Konzert der Teenie-Idole.
Euphorie pur gestern in Zürich: Die Mädchenschwarm-Gruppe Tokio Hotel rockte das Hallenstadion. Mit 5100 Fans war die Halle zwar nur zur Hälfte gefüllt. Der Kreischpegel war dennoch immens, als Sänger Bill Kaulitz (20) im sexy Outfit um 20.30 Uhr die Bühne stürmte.
Schon am Wochenende standen die ersten Fans Schlange für das Konzert. Darunter Linda Facchinetti (19) aus Bern: "Tokio Hotel sind einzigartig. Ich bin seit 5 Jahren totaler Fan!" Romina Rittowskio (17) und Christina Barnicke (18) kamen extra aus Deutschland angereist: "Wir folgen der Band auf ihrer ganzen Tournee." Die Fans wurden nicht enttäuscht: Am meisten jubelten sie bei den Hits "Automatisch" und "Übers Ende der Welt". Der Höhepunkt aber kam kurz vor Schluss mit der zweiten Zugabe "Durch den Monsun".
Translation
Tokio makes Zurich sweat
Scream-alarm! Tokio Hotel thrilled the audience yesterday in the Hallenstadion in Zurich. The hardcore-fans already stood in line since the beginning of the week for the concert of the teen-idols.
Sheer euphoria in Zurich yesterday: The heartthrob-group Tokio Hotel rocked the Hallenstadion. With 5100 fans the venue was just half full. Nevertheless the screaming was immense, when singer Bill Kaulitz (20) stormed the stage in a sexy outfit.
Already on the weekend the first fans lined up for the concert. Also including Linda Facchinetti (19) from Berne: "Tokio Hotel are unique. I'm a big fan since five years!" Romina Rittowskio (17) and Christina Barnicke (18) travelled extra from Germany to Zurich: "We follow the band on their whole tour." The fans didn't get disappointed: Most of all they cheered at the hits "Automatisch" and "Übers Ende der Welt". But the highlight was shortly before the end with the second encore "Durch den Monsun".
Transcript and Translation by tokiohotel-info.myblog.de!